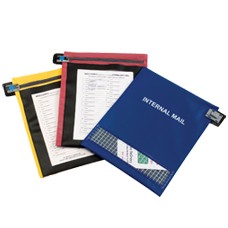 Secure Internal Mail Pouch
* Transport confidential internal mail with peace of mind using our security seal.
* Window on front allows users to write addressee details and viewing window on back shows whether the pouch is empty or in use.
W x H
10 x 14
This reusable tamper evident internal mail pouch is designed for the internal
transfer of confidential and other documents.
Product description
Made from high quality durable, weather-resistant material
Fitted with a polypropylene stiffener for document protection
Incorporates the Secure Mailing Systems tamper evident zip closure for confidentiality
Accessible A4 window on the front allows writing of addressee details
Viewing window to the rear allows user to see if the pouch is empty or in use
Accommodates C4 envelopes
Security
These mailing pouches are fitted with the genuine Secure Mailing Systems tamper evident zip closure.
When used with a genuine Secure Mailing Systems button security seal, the contents of the bag are
secured against tampering. Each bag can be re-locked quickly and easily, over 2,000 times!
See our button security seals page for more details.
Colours
The Options section above shows our standard colours for these tamper evident bags.
Other colours are available so please contact us if your preferred colour is not shown.