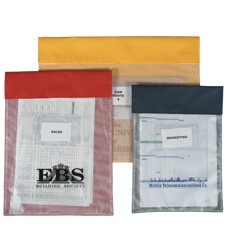 Internal Mailing Pouch

* 14 oz polynosic clear front with solid colour back and flap.
* Inside access address window.
* Velcro closure.
* Available with or without gusset.
These low volume mail pouches are ideal for transporting documents internally.
Product description
Made from high quality durable, weather-resistant material
Clear material allows for easy viewing of contents
Coloured strip provides easy identification options
Internal entry address/identification window takes standard Secure Mailing Systems address labels
Cost effective reusable alternative to envelopes
High quality manufacturing and material means these bags won't tear or burst
Security
These internal mail pouches are not fitted with the genuine Secure Mailing Systems tamper evident
zip closure. For a tamper evident alternative, you may prefer our Secure Internal Mail Pouch.
Colours
The Options section above shows our stock colours for these tamper evident bags.
Other colours are available so please contact us if your preferred colour is not shown.