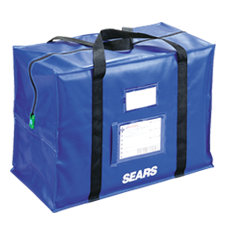 Large Volume Mailing Pouch

* 18oz Heavyweight PVC Nylon material.
* Inside access address window & waybill pocket.
* With reinforced handles.
This gusset style mailing pouch has rounded corners and a tamper evident zip closure.
Product description
Special offer while stocks last!
Made from high quality durable, weather-resistant material
A long edge zip allows for easy loading
Incorporates the Secure Mailing Systems tamper evident zip closure for button security seal
Internal entry address/identification window takes standard Secure Mailing Systems address labels
With label patch for franking labels or stamps
Cost effective reusable alternative to envelopes
High quality manufacturing and material means these bags won't tear or burst
Security
These mailing pouches are fitted with the genuine Secure Mailing Systems tamper evident zip closure.
When used with a genuine Secure Mailing Systems button security seal, the contents of the bag are secured
against tampering. Each bag can be re-locked quickly and easily, over 2,000 times! See
our button security seals page for more details.
Colours
Use the Options section above to choose your preferred colour.