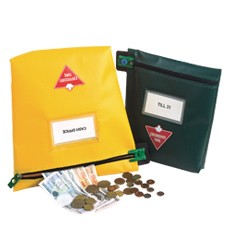 Secure Cash Bag

* 18oz heavy weight PVC Nylon Material.
* Tamper evident zip closure.
* Inside access address window.
These genuine Secure Mailing Systems secure cash bags are specially designed for storing
and transporting cash in a tamper evident manner. They were designed by
working with cash offices and companies who were looking for a tamper proof
method to move money on a daily basis without using disposable bags.

Product description

Made from high quality durable, weather-resistant material
Incorporates the Secure Mailing Systems tamper evident zip closure for button security seal
A seamless bottom supports a heavy load
A brass eyelet can be used for storage
Internal entry address/identification window takes standard Secure Mailing Systems address labels
Cost effective solution to money storage and handling
High quality manufacturing and material means these bags won't tear or burst

Security

These cash bags are fitted with the genuine Secure Mailing Systems tamper evident zip closure.
When used with a genuine Secure Mailing Systems button security seal, the contents of the bag are
secured against tampering. Each bag can be re-locked quickly and easily, over 2,000 times!
See our button security seals page for more details.

Colours

The Options section above shows our stock colours for these tamper evident bags. Other
colours are available so please contact us if your preferred colour is not shown.