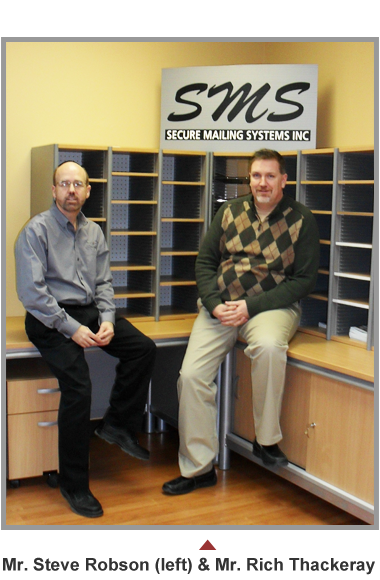 Delivering Smart Ideas to the Mailroom
From tamper-evident bags to flexible furniture lines to carts that people don't want to let go of, Secure Mailing Systems offers a comprehensive array of products to meet an organization's mailroom needs.

A mail cart may look like a fairly simple piece of equipment, but there can be a lot riding on it. That's something Steve Robson and Rich Thackeray know from their decades of experience in the mailroom furniture and equipment business. Carts manufactured by their Mississauga-based company, Secure Mailing Systems Inc., feature sturdy, welded frames and bases that won't come apart over time the way knock-down carts will, along with rotating front-disk bumpers that protect walls from damage. "We've found that once we get one of our carts into someone's hands, that person won't want to let go of it," says Mr. Robson. "With a lot of our clients, it starts with one cart, or maybe some bags, and then we build from there. Eventually we end up doing their whole mailroom." The Royal Bank, Co-Operators Insurance, Microsoft Canada and several branches of the Canadian and U.S. federal governments are just a few of the clients who have turned to Secure Mailing Systems for mailroom needs.

The company came into existence in 1996, when Versapak, a UK-based manufacturer best known for its secure, tamper-evident mailing and bank bags, wanted to change the way it did business in Canada. Mr.Thackeray and Mr. Robson, who had both been working in mailroom equipment business for a number of years, ended up acquiring Versapak's Canadian operations, which they renamed Secure Mailing Systems. "At the time, the business was about 85 per cent bags and 15 per cent furniture," says Mr. Thackeray. "We took their product base and redeveloped it for the North American market, and we expanded the focus on furniture."