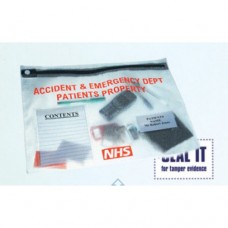 Features & Benefits
- For the safe storage of patients' personal property - this tamper evident bag is transparent for quick identification of contents and is manufactured with a large internal window for a list of contents to be inserted.
TYPE
DESCRIPTION
Product description

- Reusable tamper evident patient property pouch

- Made from high quality durable, weather-resistant material

- Incorporates the Secure Mailing Systems tamper evident zip closure for button security seal.

Security
- These patient property pouches are fitted with the genuine Secure Mailing Systems tamper evident zip closure. When used with a genuine Secure Mailing Systems button security seal, the contents of the bag are secured against tampering. Each bag can be re-locked quickly and easily, over 2,000 times! See our button security seals page for more details.
Colours
- This bag is available in transparent material as standard. Other colours are available so please contact us if your preferred colour is not shown.