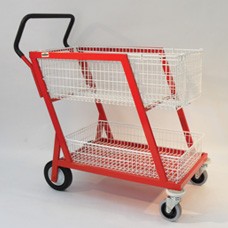 Features & Benefits
The most unique line of mail carts available in today's market. The SMS line of all welded mail carts were designed in conjunction with leading mailroom managers from various industries.
TYPE
DESCRIPTION
All welded Construction

- No assembly required

- No bolts to loosen and rattle

Wheel Buffers
- Rotates and reflect off walls eliminating cart from bouncing back from wall
Baskets

- Easy to remove baskets

- Adjustable file rods

Wheels

- Front casters 5" Moldon Urethane

- Rear wheels 8" semi-pneumatic smooth ride and excellent floor protection

- Bolt on style allow for easy future replacement

Optional Bumper
- Wrap around bumper for added protection of elevator interiors all corridors
Optional File Folder

- Continuous file folder prevents mail from dropping between files

- Vinyl material virtually indestructible will last the life of the cat

- Powder coated file rods ensure files slide free and easy

* All welded tubular frame
* Rotating front disc bumpers
* Two fully removable baskets
SIZE W x D x H
Cart
23 x 44 x 37
Top Basket
18 x 36 x 11
Bottom Basket
18 x 30 x 6
Wheel Diameter
Front 5" back 8"