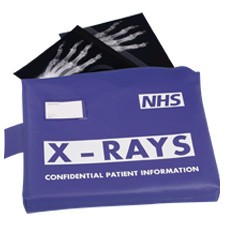 Features & Benefits
Seal for tamper evident protection.
Internal ID window.
18oz PVC Nylon.
SIZE W x D x H
Size Option
20X18X3"
- This tamper evident x-ray pouch is made from high quality heavyweight PVC coated nylon, and is ideal for transporting patient x-rays.
TYPE
DESCRIPTION
Product description

- Reusable pouch for the transportation of xrays

- Made from high quality durable, weather-resistant material

- Incorporates the Secure Mailing Systems tamper evident zip closure for button security seal

- Internal entry address/identification window takes standard Secure Mailing Systems address labels

- High quality manufacturing and material means these bags won't tear or burst

Security
- These xray pouches are fitted with the genuine Secure Mailing Systems tamper evident zip closure. When used with a genuine Secure Mailing Systems button security seal, the contents of the bag are secured against tampering. Each bag can be re-locked quickly and easily, over 2,000 times! See our button security seals page for more details.
Colours
- This bag is available in blue as standard. Other colours are available so please contact us if your preferred colour is not shown.