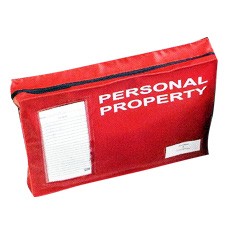 Personal Property Bag with Gusset

* This tamper evident pouch is designed to hold personal property.
* Durable 18oz PVC Material.
* Large ID window for listing contents of bag.
This security bag is ideal for holding personal property in hospitals, prisons, or anywhere that personal items need to be securely stored.

Product description

One large window and one small window on the front, both of which can only be accessed from inside the bag
Clear viewing panel to the rear which allows users to see if the bag is empty or in use
Made from high quality durable, weather-resistant material
High quality manufacturing and material means these bags won't tear or burst

Security

These mailing pouches are fitted with the genuine SMS'S tamper evident zip closure. When used with a genuine SMS'S security seal, the contents of the bag are secured against tampering. Each bag can be re-locked quickly and easily, over 2,000 times! See our button security seals page for more details.

Overprinting

If this bag doesn't exactly meet your requirements, please see our Made-to-Order Bags page for details of how we can custom make a bag to your specification.